Avoid the long lines at DEQ and come to Marque Motors!
DEQToo Service
No Appointment Needed
We provide the DEQToo service during our regular business hours.
Does your car need a DEQ emissions check? We can help!

Marque Motors is an authorized Business Participant in the DEQToo Program. We can transmit your vehicle's on-board diagnostics data to DEQ. We charge a Device-Usage fee of $10.00. If the car does not pass DEQ's service determination, we will not charge you the device-usage fee. Note that none of this fee goes to DEQ, they do not require a device-usage fee and they do not set the amount.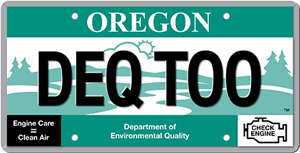 After the data gets transmitted from Marque Motors, DEQ then immediately displays its pass/fail determination at www.DEQToo.org for you to view by clicking on "Check Results" and entering your license plate or VIN. Once you've passed and paid DEQ online, you can then renew your registration online with DMV. Your stickers will arrive in the mail within as few as 3 business days.

Note that to use this program everything must be done online; not at DMV or DEQ. When you renew using DMV's online registration system, you'll need your DMV Renewal Access Code which can be found on your DMV renewal application.
LEARN HOW TO USE THE DEQToo SERVICE METHOD
PLEASE NOTE: 2005 vehicles and newer. Cannot be 75 days past expiration date.
Call for more details: 503-293-5386 or go to www.DEQToo.org for more information about the program.